Beyond the Curtain Creative Ministry Team (CMT) is a group of individuals who worship here at Prairie Hill and use their talents to bring together a 25-30 minute program that is fun to perform, enjoyed by our audiences, and communicates a biblical message to all ages.
The team is comprised of Prairie Hill students currently in 4th grade through high school. All are truly welcome to become part of the team. A typical rehearsal begins with a team devotion, time in prayer, and then on to learning our program.
The Creative Ministry Team goal is to find a creative way to share the gospel and help everyone involved grow in their understanding of Jesus. This is accomplished through learning new skills, working together as a team, and using what we have learned to share the message of truth from God's Word in the programs we perform.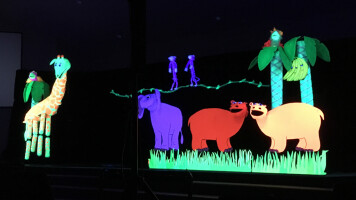 Our programs are multi-media and include puppets, props, music, special effects, and visual effects, with much of it being performed under black light. Some programs also include mime, hand mime, sign language, and other creative arts.
Puppetry requires teamwork and flexibility. The team recognizes that each member brings their wonderful skill to the program and that every member is a very important part of the team. They all make it come together.
We truly enjoy working with each team member and sharing the Gospel message in each performance. "Performances are the most fun!" as the kids say.
Whatever you do in word or deed, do all in the name of the Lord Jesus, giving thanks through Him to God the Father. Colossians 3:17